FALSE.
Welcome to January, guys.
Think frozen fingers, aching noses, and frostbitten toes.
Black ice, waist-high snow, and falling icy daggers of doom.
Every trek to the library is treacherous, every walk to class an adventure.
Luckily God (or the Fashionista in the Sky, or the Cro-Magnon man, or whomever else you believe in) invented coats to keep us warm, cute and classy.
Not trashy, girls, please not trashy.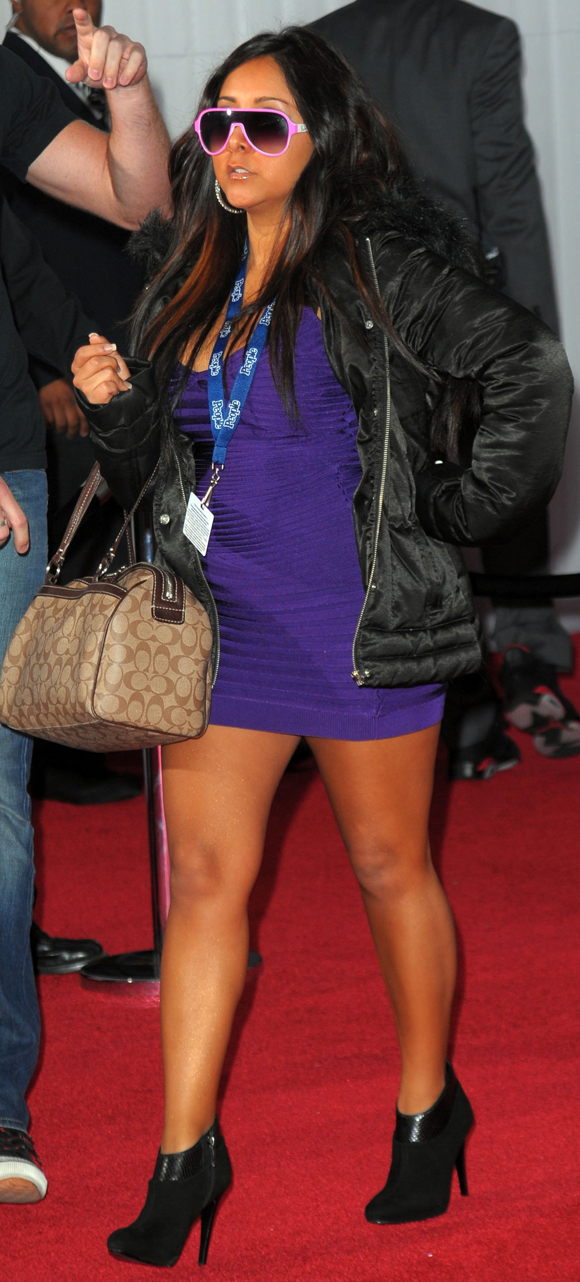 Oh, Snookie. What ever shall we do with you?
A wise man once said "the difference between style and fashion is quality."
I don't want to step on good old Giorgio's Armani-clad insteps (so much more painful than stepping on toes), but style and fashion are both valuable and both fun.
Fashion is something you experiment with, something that can change with day and mood, and something that's a very useful tool in the journey to finding your style. There's absolutely nothing wrong with taking a little time to get to the final style (which can, and probably should, evolve a bit over the years). If you don't know what your style is yet, don't rush into someone else's.
"It would be very hard for me to do things somebody else's way." Well said, Giorgio. If you aren't sure what your way is yet, you probably won't want to drop a million dollars on a coat.
Especially when there are so many cute, convenient,
and
affordable coats out there!
If you think you might like the North Face Puffer Jacket look, but don't want to pay $200 to $400, you can achieve a similar look for much less.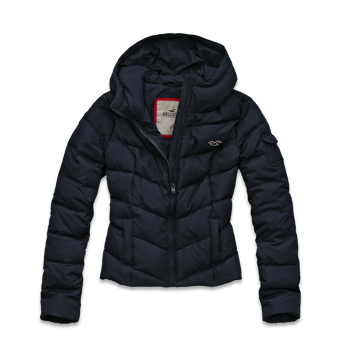 Hollister Mission Beach, $60
If you like a flirtier, girlier version of the biker-chic look and/or you don't live in the Arctic region (or Boston) you don't have to pay $400+ (and more in a bad conscience) to wear MooMoo the Cow's cousin. Go for faux leather, instead.
Charlotte Russe Ruffle-Waist Moto Jacket, $39.99
You can keep it classic with a wool-blend tweed coat...
Forever 21 Wool-blend Tweed Coat, $24.80
...or go edgy by introducing a little color. Trust me, we'll all thank you for it - maybe there'd be a little less SAD if we didn't all dress like gloom and doom all winter.
I'm trivializing things, but it's just a thought.
Papaya Double Breast Coat, $21.99
And, for when you're going out at night, there's always the simple trench.
Express Belted Trench Coat, $99.99

"Fashion is made to become unfashionable." Coco Chanel knows what she's talking about, so have fun with it! What's the worst that can happen?




Somehow, I think I ask that question waaaaay too often.




How often do you switch your coat?
What pieces do you buy for quality, and which do you like to experiment with?

Somehow Christmas songs and movies always make it seem like Christmas time is the coldest time of the year.