Crudites with ranch dip and:
These raw superfood bars are based on dates and have the
Amazing Grass
Green Superfood blend mixed in:
They're so yummy! Sweet and rich with a berry under taste and lots of nummy, nummy nuts@!
Okay, time for that healthy laugh I promised you.
Sure,
no one
most people don't really go out of their way to have their outfits be funny, but the fact is that fashion is not only a source of aesthetic pleasure, but also - at times - one of
entertainment
.
Don't get me wrong - I'm a walking fashion disaster at times, too. And I'm sure you are, too. It's normal. Here are some other fun fashion disasters.
I hope you have a nice laugh! See? You've already done something for your health today!
Gaga's economizing her wardrobe:
Gaga always takes it pretty far, but this took it decidedly too far - or not far enough? Maybe next time she'll remember to put on pants and a shirt (or at least a shirt, since she doesn't seem to be a big fan of pants).
Britney's had a laundry mix-up:
Cute shorts (I'm not even going to comment on the K-Fed cap) but couldn't you get the top in your size? If her kids were girls you could pass it off as a simple case of clothes confusion, but as is...
Victoria's Down-sized Tux:
What's the theme here? Missing garments. Sure, the shoes are cute - but that doesn't mean we won't notice that you forgot your pants on the way out.
Miley goes to Funky-Town:
There's a lot of experimentation that goes on every fashionista's life, but we're glad that this mangled/shredded/ripped look didn't last.
Funny fact: Trader Joe's and Aldi are owned by the same company. Love them!
Gaga's a Meathead
This one is less entertaining than disgusting. I suppose that's because I'm a vegetarian. I seriously don't mind at all when others eat meat, but this? It's hideous and appalling. Plus, the metaphor falls short.
Gaga wants to show that she's not a piece of meat by covering herself in meat? And that makes sense how? That's why those animals were bred, raised, and killed - to be part of a failed metaphor?
I wonder how many families that meat could feed...
Anne has wings!
We just wish those wings weren't on her pants. Clarisse Renaldi would not approve.
Pammi Goes Big:
If you want to get a boob job, and that's really up to you (it's your body), just make sure that you don't think the same shirts from your flat-chested days are going to cut it.
They won't.
Rihanna Experiments: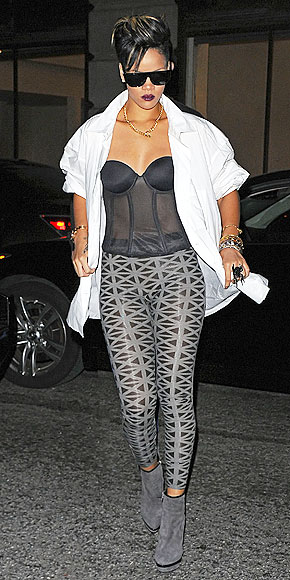 Those pants are so unflattering - for anyone! - with their dizzying business. Then the sheer bustier on top add even more lines. Oh dear. Thank goodness, Rihanna has come far since then.
Katy's Fairytale:



Unless you live in Pixie Hollow, this probably shouldn't be in your wardrobe.




Have you seen/been a funny fashion disaster lately?

Let's start with the healthy snack, shall we?