Last week's
Friday Foodie Finds
theme was brownies, this week's theme is pancakes!
I
loved
pancakes as a kid, then didn't care much for them for a while as a teen, and have become enamored with them again as of late. But this time, it's not just the
plain pancakes and syrup
of my childhood Sunday mornings. I like the flavor-packed pancakes now!
I like my pancakes thick and doughy, no flat little slabs for this girl!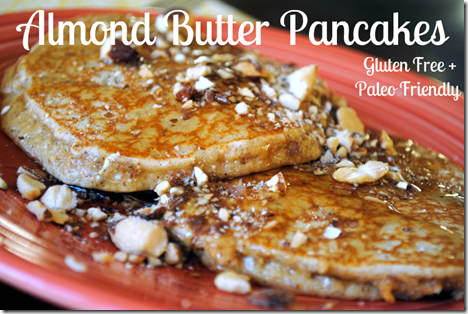 Speaking of almond butter, I have a great new almond butter to share with you guys! Or three :)


Justin's Nut Butter

is actually a really popular nut butter brand (they're the ones that popularized the single-serve squeeze packs!) so I have no idea why/how I hadn't tried them before.

They have peanut butters, chocolate hazelnut butters, and even chocolate-nut butter candies, but what I really wanted to try was the almond butter! There are four varieties (classic, maple, chocolate, and honey) but I tried the first three of those.

They're all creamy, rich, and all-natural (yes, there's oil separation - but that just means that you're getting healthy nut butter sans hydrogenated oils!). They're the right amount of sweet and very smooth. But my favorite of the three?

Chocolate almond butter!

I love how Justin's Nut Butter emphasizes organic ingredients - boosha! And the 7g of sugar in the chocolate almond butter is considerably less than the 21g in the comparable chocolate nut butter by Jif. But it tastes plenty sweet enough

and

it's more flavorful! Win-win!

Sorry for the weird color in that - I opened it for a study snack and the flash did weird things. In reallity, it's a nice chocolate brown. But you can see the smooth texture of the almond butter! Not too smooth, though, you still definitely know that you're eating ground nuts :)

So writing papers at all hours of the night is never great fun, but if you have to do it? Doing it with a snack of toasted bread and Justin's Nut Butter Chocolate Almond Butter is the way to go :)

My Organismic and Evolutionary Biology Behavioral Genetics research course midterm paper is progressing largely thanks to these:


But this spread is a winner for breakfast, too! It's doesn't just taste good at 1am :)




What's your

favorite breakfast?


How do you like your

pancakes

?
What's your favorite

Justin's Nut Butter

product?

First, congratulations to Bonnie Koscinski, winner of my Organic, non-GMO Rumiano Cheese giveaway! And don't worry if you didn't win, I have another giveaway coming up this Sunday :)