I promise you'll find it exciting, too.
But first, my review!
I'm always coming up with
new combinations
,
loading bowls up high
with as many different flavors as I can, and trying to find
new ways to shock and delight
my and others's taste buds.
Sometimes it's nice to just go back to the basics and appreciate that there can be equal delight in simplicity.
Or it can be. There's a lot of variation in peanut butter quality, because some cheaper bands of peanut butter (like the Jif I grew up on) use hydrogenated oils as fillers to stretch the amount of peanut butter in the jar, 'improve' the texture, and prevent separation. The addition of unhealthy hydrogenated oils (= trans fats) can turn in otherwise healthy jar of peanut butter into something a lot less desirable, however.
But while your typical health food store natural peanut butter is delicious in its own right, it doesn't have that super-creaminess that 'childhood' peanut butters have.
Earth Balance
has the solution with its line of natural peanut butter (it comes in creamy, crunchy, and creamy or crunchy peanut butter-coconut blends).
It just has five simple ingredients and uses palm fruit oil to achieve the smooth, creamy, no-oil-seperation texture of Jif peanut butter in a healthier way.
And it achieves it! This peanut butter is both
mild and flavorful, creamy and thick
. It has the stick-to-the-roof-of-your-mouth factor reminiscent of childhood
school lunches
and a delightful peanut aroma from when you first open the jar.
Oh, and it provides you with those
brain- and heart-healthy Omega 3s
that most people have a hard time getting!
The picture of pure, healthy simplicity, Earth Balance crunchy peanut butter replaces Jif as a staple peanut butter in my pantry. Yum! On a sandwich, with ice cream, in a bowl of yogurt-granola delightfulness, or simply eaten with a spoon from the jar, this peanut butter is a
simple delight
!
Okay, so my mouth is delighted. Now it's time to delight
YOU
with that great news I've been promising you!
Everyone who knows me at all (or has been following this blog for several months) knows that I am
obsessed
with Christmas.
Well, guess what? Just so y'all can get as excited for December as me, I'm hosting the
biggest
giveaway
series
this
side
of
Oprah
.
Okay, that could be a slight exaggeration.
But only slight.
Every day from December 1 through December 25 at least one winner will be announced here on my blog. And every day starting
today (
through two weeks before December 25) there will be a new giveaway here on my blog.
There will be something for everyone,
even my international readers
!
Okay, much ado aside, here's the first giveaway of the
25
Days
of
Giveaways
!
Since December 1 is when the Christmas season truly starts for me (though let's not lie - I was watching Christmas movies and singing the jingles back in the first week of October) , December 1 is a pretty big deal.
Though I'll still be at school wrapping up the semester and with finals looming (boo!),
December 1
used to be a HUGE day at my house. It was the day that we'd get our Christmas tree and start putting up decorations!
Since I can't have a real Christmas tree yet, as I'm still at my apartment in Boston and not home with family in NC, here's the next best thing.
As the first
giveaway
in my 25 Days of Giveaways, you can win your own yummy Kreations by Keara Christmas Tree Cake Pops!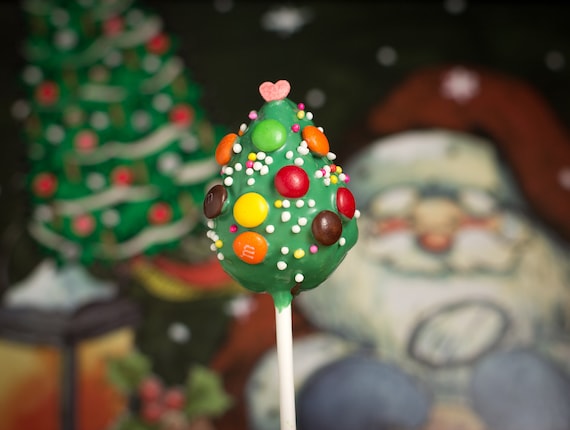 Each chocolate-covered cake pop comes individually wrapped,

perfect

for

snacking,

gifting,

or

stocking

stuffing

. There are vanilla cake, chocolate cake, yellow cake, and confetti cake pops with vanilla, chocolate, peppermint, and cream cheese icing. Yum!




This giveaway is open to readers in the US and Canada. You have two weeks to enter and the winner will be announced on December 1!



Don't forget to enter

my other giveaways

, too!

This is a kind of long-ish post, but there's a really good reason - I promise. At the end of the post, after my review, I have some exciting news for you guys!