*NOTE* For just a few more hours, you can get an awesome deal on a home-delivery Fraser Christmas Tree - I just bought mine here!*
Before we get into the
WIAW
part of this post, I have to tell you (well, my Wednesday-only readers, since the others already know) about something that's been weighing deeply on my heart.
I'm suffering.
I'm suffering from a serious case of
Is It Christmas Yet?
and it's no fun to suffer alone. Every day, I tick off the previous day so that I can come one day closer to December 1, when it's officially okay for me to start to celebrate.
But misery loves company.
So I had this dilemma. How could I get some people to join me in my crazy-countdown-to-December-1 syndrome?
I thought and I thought until I came up with a brilliant idea. I would do what ABC Family's 25 Days of Christmas does for Christmas movies, only my corellary would be for
free stuff
! Everyone loves free stuff!
Am I right? Eh, eh?
So I'm hosting the first (annual?) LLE
25
Days
of
Giveaways
!! There will be a
new
giveaway
winner
every
day
from December 1 through December 25, so there'll be plenty of chances for everyone to win something -
even my international readers
!
Each giveaway will run two weeks, which means that I've already been posting a new
giveaway
each day since this past Saturday - and today is no exception!
Holidays mean guests and, often enough to have spurred many funny films and TV shows, last-minute guests. So here's something that's great to have on hand whenever you have any guests swing by. Though if this is always around, you'll probably be entertaining quite often this holiday season!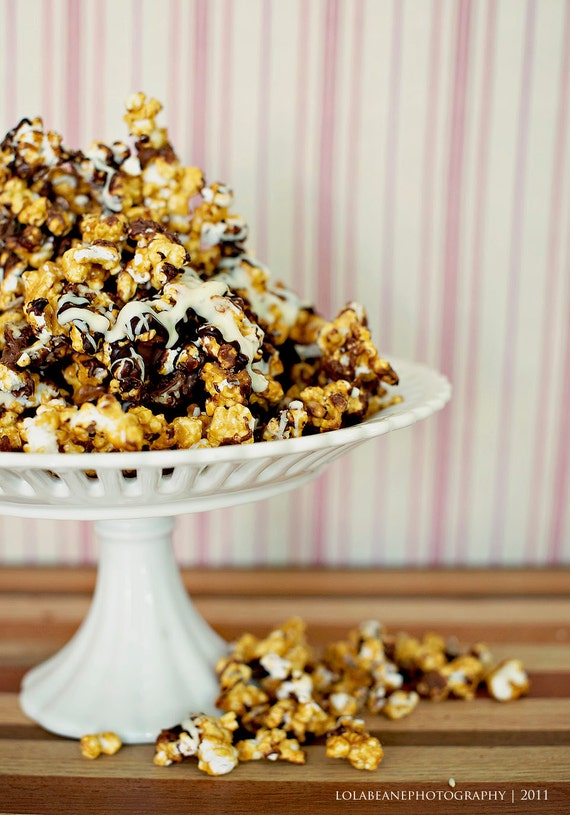 Chocolate Bar Shop
Triple Chocolate Caramel Popcorn is made with organic ingredients and no high fructose corn syrup. Instead, it's a wonderful marriage of milk chocolate, dark chocolate, and white chocolate over caramel popcorn with chocolate covered pecan bits.
Who needs guests? This looks yummy enough to eat by yourself, too!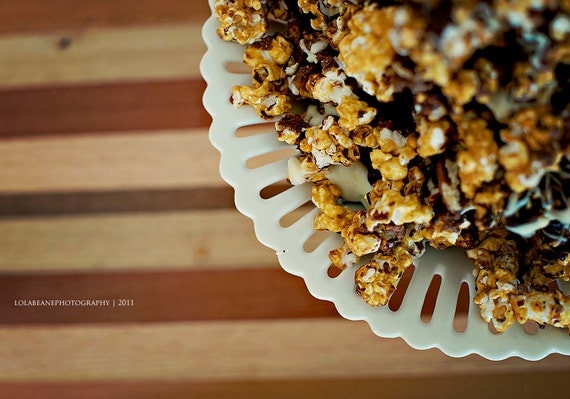 But just in case you want to gift it to a special someone, it comes in pretty silver tins with ribbons!
This giveaway is open to everyone
(international readers, too, yay!)
and you have until December 5 to enter for your chance to win a yummy tin full of Triple Chocolate Caramel Popcorn.

So did it work? Is everyone anxiously awaiting December 1 with me?
Anyway, today is WIAW. And I've lately gotten the chance to try a great variety of yummy juices, so I'll review those here now! So it's more of a WIDW (What I Drank Wednesday).
Life Juice Shop
provides three day juice cleanses full of nutritious, delicious juices! I've never done a juice cleanse before, but I've heard a lot about them. Well...I still haven't done a juice cleanse. I probably never will.
I'm a busy college girl and I need my food ;)
But I have been enjoying the benefits of adding more juice to my regular diet! Adding these healthful juices to my regular eats definitely makes me feel better and adds a little pep to my step!
Yes, still the pep-in-the-step effect, even with the processed mac & cheese (which, by the way, does not come with the cleanse)
Especially leading up to, or following, the indulgent holiday season (which should rightfully be packed with such decadent treats as the chocolate caramel popcorn above!) adding fruit & veg juices (even if, like me, you don't do the real cleanse thing) can help improve digestion, improve sleep, reduce bloating, normalize cravings, reset eating, and strengthen immunity, among other things.
If you're thinking about a juice cleanse, I recommend really considering if ordering a cleanse and then just adding those juices over several days might be a better plan. Juice cleanses just aren't for everyone. A juice cleanse is not recommended for those who suffer from:
* eating disorders, such as anorexia nervosa or bulimia
* heart failure
* hypothyroidism
* anemia
* low blood sugar
* etc.
It's also not recommended if you're pregnant or nursing, recently underwent surgery, or are very active, as it may not meet your energy and nutrient needs. The cleanses are intended to last three days, but (as I did) you can spread those juices over several days, interspersed with food, and still reap a lot of benefits from the healthy juices. Many people like enjoying two juices per day as snacks (like I have been!) or as a healthy post-exercise pick-me-up over the long-term, just to stay feeling their best!
The juices come with a cooler bag (comfortably fits two bottles and an ice pack) to take your juices on the go.
The cleanse, however, comes with 6 juices per day. Each bottle is 2 servings of 8oz each, but both servings are intended to be consumed at once (so why is it divided into two servings? Beats me). The juices are all freshly made, unpasteurized, and contain no preservatives - so you'll want to keep them refrigerated.
They arrive frozen, though (mine were still frozen after sitting on the steps for 8 hours while I was at school!), and while they should only stay defrosted for up to 3 days, you can keep them for longer in the freezer (for example, if you want to order the juices and just drink one or two per day to supplement your usual foods).
If you're doing the cleanse, and not just adding juices to your diet, you're likely to experience some unpleasant side effects, including headaches, fatigue, irritability, constipation/diarrhea, dizziness, abdominal cramps, etc. If you experience any stronger side effects, it is advised that you stop cleansing immediately and consult your doctor.
Himalayan Sea Salt Sole
- Filtered spring water, lemon, Himalayan sea salt
Ugh, this one was hard to drink. It's the first drink of the day if you're following the cleanse and you're supposed to drink it warm. I heated it up in a pot of hot water, but I'm afraid drinking it warm didn't do much for the taste. It's...salty.
Since I wasn't cleansing anyway and was just adding in the drinks, I ended up not drinking two of the the three sole bottles.
Alkaline Blend - Apple, carrots, beet,
spinach, cucumber, celery, and lime.
LOOOOOOOOOOVE. This is the second drink of the day, following the cleanse plan, and also the second juice that I tried. I was really not looking forward to it for two reasons. First, the sole tasted so icky (sorry, but it's true) that I didn't have high hopes (and I was a little nauseas). Second, I loathe beets.
My German grandmother is convinced that beets are the be-all, end-all of good nutrition and she's always trying (unsuccessfully) to get me to eat them. But I just don't like them.
This however? Oh. My. Gosh. My first wary sip turned into not being able to get enough!
This is delicious - it's very sweet (since, like most of the other juices, the first ingredient is apple) and it tastes super fresh. The carrots and beet add a special something (the beets add a sort of spice, but not in the sharp/hot way) that really tastes good! And I couldn't really taste much of the other veggies at all, but the overall blend was just delightful. And it's a satisfying juice! I'd drink this instead of OJ with my breakfast :)
Oh My Green Goodness!
- Apple, cucumber, celery, lemon, spinach, kale, parsley, ground ginger.
There are two of these per day (so I guess this would be considered the staple drink of the cleanse) and they're meant to be the third and fifth drinks of the day.
Energizer Bunny
- Apple, carrot, lemon, ginger.
This one is absolutely delicious! I really like carrots, but I don't like carrot juice. This carrot apple juice? So sweet and delicious!! And the ginger and lemon just make it all the more delicious :)

This one is, if you're following the cleanse, the last drink before bed. Even if you're not, like me, this is great as a bedtime snack! Warmed in a hot water bath for a few minutes, it's a delightfully comforting drink that's as delightfully holiday-tasting as a mug of eggnog or spiced cider. But it's healthier! Aka, an awesome Christmas movie night drink :)


You can order juices individually or as part of various packages (including the three day cleanse). Life Juice Shops ships its juices (overnight) across the USA.
But since it's WIAW, I do need
some
food in here. So how about a big, warm chocolate chip cookie?
The best thing about Doubletree Hotels is definitely the cookies at check-in. YUM.
Do you drink juice often?
What's your favorite type of juice?
What are you hoping I'll give away in one of my 25 Days of Giveaways?