It's finally December 1! I feel like I'm pretty much waiting for this day all year, starting December 26 :)
And it's here!
You know what else that means is here?
The first winner of the 25 Days of Giveaways! Just to refresh your memory, this lucky winner gets Kreations by Keara Christmas Tree Cake Pops...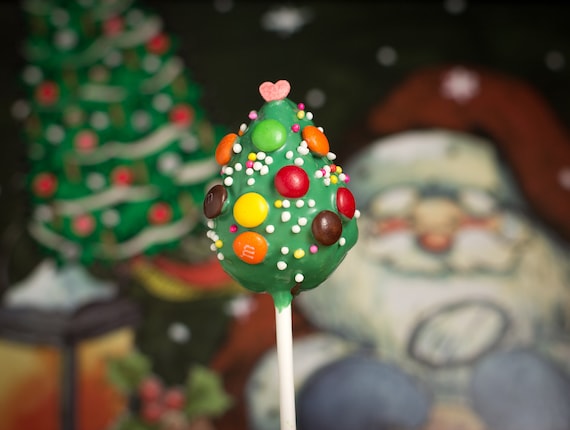 Check
here
to see if you're the winner!
But guess what the best part of the 25 Days of Giveaways is? Just because you didn't win this one doesn't mean you didn't win. You could be tomorrow's winner! And if you scroll all the way down on this post (or read it all the way through :P ) you'll have another great giveaway to enter!
Oh, plus you still have all of the other
current giveaways
in the series to enter!
YAAAAY!
Now, just for fun, here are some great Christmas tree decorating tips that I've found.
Choose a color scheme.
While just throwing everything you've got up on the tree can be fun (and cute), choosing two or three colors - like red and white, blue and silver, etc. - makes for a more sophisticated Christmas tree.
Hang ornaments at different depths. Instead of hanging all of your ornaments at the tip of the branches, hang some ornaments deep on the branches. This creates depth, crucial for a professional looking Christmas tree.
Hang your lights first. This one is fairly basic and, for a lot of people, probably goes without saying. But if you try to hang ornaments first and lights second? Disaster will ensue, guys. Disaster will ensue.
Don't forget to have fun! Ultimately, the goal isn't just to have the perfect looking Christmas tree. It's not about have a tree that looks like the National Christmas Tree, you should have fun decorating the tree with your family. I think the biggest problem for people who feel holiday-related stress is getting caught up in nitty little details and forgetting to see the magic of the season.



Can you feel it? There's

magic

in

the

air

.




Okay, okay, I know what y'all want. Here's today's giveaway! It runs through December 15, when the winner will be announced right here, yay!




I've heard a lot about Alter Eco over my (slightly over a year) of blogging. And with good reason! The company is fair trade and all about sustainability. Their products are good for us, they're good for our neighbors, and they're good for the world!


From whole grains to natural sweeteners to chocolate, they have a nice variety to offer. I got to try some of their treats, as will one of you lucky readers!




Just in time for the holiday baking season, there's their organic mascorado cane sugar. It's light brown and medium grain. It caramelizes nicely for chewy chocolate chip cookies that Santa will really appreciate ;)

The rainbow quinoa is also pretty special - it's nicely multi-colored and cooks up nutty and delicious. I like cooking it as per instructions and topping with a nice sauce or a pat of butter as a tasty side.

And who knew that quinoa is gluten-free? Maybe you guys already did, but I didn't. Anyway, this is a delicious high-protein, vegan, gluten-free side!

The jasmine rice is also quite good, though it wasn't quite as exciting to me (I'm of the opinion that rice is rice).

But the chocolates are my favorite thing that Alter Eco has to offer! Each bar is two servings and they come in either a 60% cacao variety or a 47% cacao variety.

Here are my thoughts:


Dark Mint - Minty, chocolaty, smooth, creamy, and sweet. YUM!

Vegan

Dark Twist - The orange flavor is nice and prominent agains the super-creamy dark chocolate. It's refreshing and indulgent!

Vegan

Dark Almond - They didn't skimp on the almond chunks! The buttery almonds pair delightfully with the creamy dark chocolate.

Vegan

Dark Quinoa - I loved the crispy crunch of the quinoa against the creamy chocolate! I also really like how this is a nuttier, higher-protein spin on the traditional crisp rice chocolate bar. Way to be creative (and pull it off)!

Vegan

Dark Cacao - This is a very simple, basic dark chocolate bar. It's not too dark, so it's great for most tastes (not just dark chocolate lovers).

Vegan

Dark Velvet - This is a really nice milk chocolate bar, with extra chocolate flavor! It's a great way to get that antioxidant punch of dark chocolate even if you don't like the strong flavor of most dark chocolates. Dark Coconut Toffee - The coconut and toffee pair delightfully in this dark milk chocolate bar. The bar really benefits from the same combo that makes Girl Scout Caramel Delites a winner year after year!


I really enjoyed these Alter Eco Foods and I love how, in the theme of the holidays, they give back to others. Way to go!




Enter below for your chance to win an Alter Eco package of your own, complete with quinoa, rice, sugar, and 4 chocolate bars!




The giveaway ends on December 15. Don't forget to share the giveaway with your friends - it's the holidays!

YAAAAAAAAAAAAAAAY!!!!