By adding greek yogurt!
Greek yogurt is a great source of protein for vegetarians and omnivores alike, it's an excellent source of calcium, and its super thick and creamy-licious texture makes it super satisfying and super delicious! Greek yogurt is awesome on its own, in creations (cough, cough: yummy yogurt-granola-nut/nut butter messes), or as an ingredient in anything from soup to muffins to potato balls and tzatziki!
I've had the pleasure of trying a new-to-me Greek yogurt,
Voskos Greek Yogurt,
recently and, since I got to try
all
of their products and that's a
lot
of greek yogurt, I thought the best way to share my thoughts with you is by dedicating this
WIAW
to the ways that
Voskos
greek yogurt has been in my life lately!
Check out that super awesome greek yogurt shelf in my fridge
NOTE: Greek yogurt is, of course, not thing only thing that I eat all day (much as I'd like to) nor did I eat all of that Greek yogurt in one day. This isn't a
day's record WIAW
, it's a 'what I've been eating lately' kind of
WIAW
with Greek yogurt as the theme!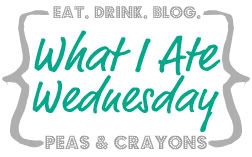 Voskos
greek yogurts have double the protein of regular yogurt and are non-GMO and free of rBST and rBGH (whoot-whoot!) and anything else that you
don't
want in your healthy cup of creamy goodness.
Track down the blue
Voskos Van
for your free samples - they give away greek yogurt every weekend! You can also check out their
What's Fresh blog
for great articles about healthy living (like how to minimize colds, slow the aging process, and the latest research about how dairy may help prevent diabetes and probiotics may help against IBS)!
Though all that great health stuff doesn't even really matter once you taste these deliciously creamy, fruity greek yogurts. There's nothing artificial tasting about even the peach flavor - and I think peach is one of the hardest yogurt flavors to get right.
But Voskos pulled it off. It's really fun to go crazy with the toppings! Here's a cup with the last of a bag of pretzel sticks swirled in, but I also really enjoyed topping the cups with granola, banana chips, chocolate chips, peanut butter, and (in a last ditch attempt to hang on to Christmas) candy canes.
Voskos Greek yogurt comes in a bunch of different varieties, flavors, and sizes, so that there's something for everyone!
Unless you're lactose intolerant...
But Greek yogurt is actually easier to digest for some lactose sensitive people than other dairy, because of the healthful bacteria in the yogurt!
Anyway, there's the big 32oz tub in case you're running a family (or just
reallllly
love Greek yogurt), the 16oz tub for smaller households or smaller Greek yogurt addictions, and the 5.3oz cups for bag lunches and breakfast/snacking on the go.
My favorite is the 16oz plain yogurt - perfect for piling on the toppings :)
And Voskos greek yogurt is creamy! My mom bought some of the Yoplait variety (it was on sale) the other day and then we had this shortly afterwards and she said she couldn't believe that they claimed to be the same product. I couldn't either - Voskos greek yogurt is so much creamier and thicker and all around yummier!

It's right between Chobani and Fage in consistency - just the right amount of thick.



I didn't try the Crunch greek yogurts, but they have four flavors for snacking on the go - that's Greek yogurt with an attached little compartment full of crunchy granola! The flavors are Vanilla Crunch, Honey Crunch, Blueberry Crunch, and Strawberry Crunch.




Have you tried Voskos Greek Yogurt?




What's your favorite way to eat Greek yogurt?




Do you prefer Greek or regular yogurt? Which do you eat more often?

I've been talking a lot about yummy ways to make breakfast a regular part of your diet. There are a lot of ways to do it, from planning ahead to waking up earlier to stocking your pantry and fridge. But the best way to make breakfast a part of your life is to make sure you love your breakfast - then you'll want to eat it! And what's one of my favorite ways to inspire breakfast love?