I'm a mixed girl with mixed girl hair and it's definitely been a journey to learn how to deal with my hair.
When I was in elementary school, I struggled to figure out how to keep it knot-free without too many tears.
When I was in middle school, I struggled to figure out how to keep it from doing the whole upside-down yield-sign thing. I wore braids for two years in a row, just because I couldn't figure out any other hairstyle that looked reasonably presentable and didn't take two hours each morning.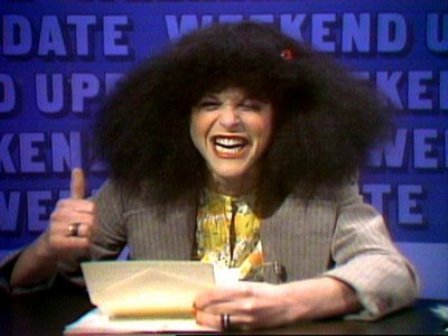 Not me, but the hair is pretty much spot-on
In high school, I continued to battle the inevitable inverted yield sign and wore a granny bun for way too many years (my mom and big sister still groan whenever I do any sort of bun, now, for fear that I'll start another 5-year bad hairstyle streak).
By college, I had finally learned out how to (more or less) tame my unruly mixed girl hair, at least some of the time. But there's still always room for improvement and part of that is definitely learning what products to use.
Pantene, the world's number one hair care brand, has two collections of hair care products that are designed just for African American women! There's the Pantene Pro-V Truly Natural collection for girls with natural hair and the Pantene Pro-V Truly Relaxed collection for girls with relaxed (chemically straightened) hair.
Since African American women (and mixed girls, like me!) with natural hair tend to have a tight curl pattern, it can be tough for the scalp's natural sebum to moisturize the hair. The result? That oh-so-flattering inverted yield sign of dry, frizzy disaster.
The Pro-V formula promises deep cleansing without stripping away natural moisture, like harsher shampoo and conditioners can, helping keep our hair shiny and looking good. At $4.99 per bottle (for both the shampoo and conditioner) it's an affordable option for those of us who aren't willing to drop $30+ on salon-priced products.
I couldn't wait to try the Pantene Pro-V Truly Natural shampoo and conditioner!
My before:
That's from the side/back. I'm not Cousin Itt of the Adams Family.
Time for to try it out!
Because this?
Could definitely use some work.
They sent me several different products to try - I didn't realize how much the line extended beyond just shampoo and conditioner!
There's shampoo, conditioner, co-wash cleansing conditioner, shine serum with argan oil, and a styling custard.
Yay! Enough to establish a whole hair routine.
The shampoo and conditioner were thick and creamy, and they smelled really good. I enjoyed using them, unlike other products for African American women, that tend to smell weird or extremely cocoa butter-y.
I towel dried my hair, combed it, scrunched the styling custard through it, and headed off for my day as usual.
It rained, it blew, and the elements did their best to make my hair a bird's nest. For all that, I would say it held up pretty well!
Not bad for the end of such a crazy day! I'll definitely keep using these products. I also like how soft my hair felt!
What shampoo do you use?
How often do you shampoo/condition?
What products are in your hair routine?
I was selected for this opportunity as a member of
Clever Girls Collective
, and the content and opinions expressed here are all my own.