Some are lucky enough to spend Independence Day on a beach, but a lot of us are staying in the City either for budget or crowd reasons - NYC is sure to be packed, as always, but the beaches might be even worse that weekend!If you're stuck in the City for July 4, don't be too disappointed. There are plenty of things to do right here!
In case you need a few ideas, here are some relatively budget-friendly suggestions:
Visit
the
Statue
of
Liberty
!
It's been closed since October 2011 for renovation, and then to repair Hurricane Sandy damage, but it reopens this Independence Day!
If you're crowd-shy, I'd recommend avoiding this attraction, but otherwise it's a decent option. A ferry ticket will cost you only $12 (children 4-12 pay only $5, children under 4 ride for free) and you can go up into the crown!
The attraction now boasts improved wheelchair accessibility, shallower steps inside the statue, and a new A/C system.
Have
a
barbecue
with
friends
!
Take
a
Revolutionary
Walking
Tour
of
the
City
!
You can walk around the City and learn about historical events shaping the development of our nation for only $20/hour/person (for 4 people) and $10/additional person. Gather a big group of friends and it gets cheaper per person! And more fun :)
Watch
the
Macy's
Fourth
of
July
Fireworks
!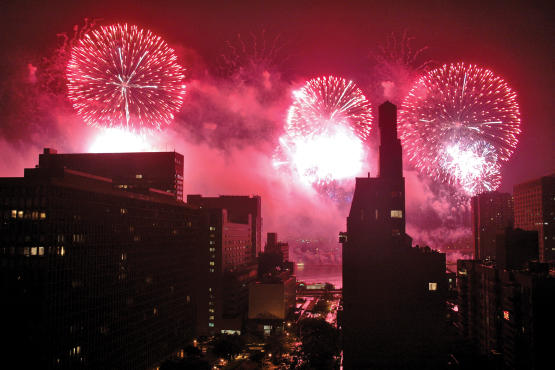 End the day by finding a nice spot along the Hudson to watch the fireworks - it's free and there are 40,000 fireworks in the 25 minute show. If you're in NYC, you may as well enjoy uniquely New York experiences like this!

What are your July 4 plans?
Do you like museums?

I actually really do!

Are you a fireworks fan?

It's still a few weeks away, but people are already starting to plan for July 4!