Diet to Go
meals - yum!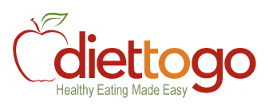 As I noted the
last time
that I reviewed their service, they're a great meal service option for health-minded individuals, whether or not you're trying to lose any weight.
I chose the vegetarian meal plan again, of course, and added in my own snacks of granola bars, trail mix, bowls of cereal, ice cream sundaes (it's summer and HOT), fruit, etc. As you can tell, I'm
not
trying to lose weight.
But I definitely loved the convenience of these meals. And the taste! It was fun to eat delicious, nutritious meals that are different from what I normally make!
Anyway, without further ado:
Like the other meltovers, it's quite cheese-heavy.
It was still absolutely delicious! The portobellos were big and juicy (I very rarely eat mushrooms and never make them myself, but I have no idea why - they're delicious) and the marinara is super flavorful and packed with veggies! There's some cheese in the marinara mix itself, so I felt a bit queasy thirty minute later, but not too bad. And it was delicious!
But not as delicious as the Armenian Stew meal.
Lots and lots of veggies and legumes in this meal - and my first time trying cauliflower rice! Loved it.
There was pretty much no way that I wasn't going to love this meal - lentils, creamy cauliflower mash (it really was more mashed potato-like, post-microwaving) and flavorful sauteed brussel sprouts in a ridiculously delicious sauce?
Frozen
What's not to love??
Frozen
Exactly. Making this, by far, one of my favorite of their savory meals. I really liked the inclusion of cumin in the stew, it was great!
The only change I would possibly make to improve it would be to reduce the liquid in the stew - the first few bites were more soup-like, before I got to the (LOTS OF) lentils below.
Or maybe I just need to work on my mixing skills.
The Vegetables in Curry Sauce wasn't actually a personal favorite, as I'm not super wild about curry and the cream in the curry sauce made me feel a bit ill after eating (darned lactose issues) but I'm including it because it was done very, very well and I know that my mom (and many others) would absolutely love it!
They get major kudos for finding brown basmati rice - I didn't even know that was a thing!
Frozen
There are lots of great veggies in the dish (that's one of the things I really love about Diet to Go - unlike many other meal services, especially frozen meal services, they really keep an emphasis on fresh foods, everything tasted super fresh, and on keeping their meals healthy and balanced with veggies).
Hot
The yellow squash in the creamy curry sauce was great and the brown rice was cooked to perfection, even after nuking in the microwave. And the beans? Don't get me started on the beans!
I've never had Soy Salisbury Steak before, but it was really tasty.
Diet to Go Soy Salisbury Steak with gravy and mashed potatoes
Theirs came with mashed potatoes and a side of green beans that were, surprisingly, not overcooked after microwaving the dish to completion. The 'steak' was a large veggie burger patty type thing, but a bit softer, and really good.
The only thing that I would do to improve this dish would be to reduce the saltiness of the gravy. It was a bit much for my taste, but definitely not bad in terms of the usual sodium you'll get in frozen meals.
The Channa Masala was great for anyone who likes Indian food.
Or anyone who likes chickpeas. I loved that they used brown basmati rice here, I didn't even know that basmati rice came in a whole grain version!
Frozen Channa Masala
It was delicious. And the chickpeas were great, too!
Heated Channa Masala
It was a great, healthy lunch and really satisfying. The cumin really stood out again in a wonderful way here!
Though I can't say that I noticed that the carrots were minted. Maybe more mint is needed? Or maybe I just got the few un-minty carrots in the batch.
The Moroccan Lentil Salad was a little soupy for me at first bite.
Diet to Go Moroccan Lentil Salad
But that was just my failed mixing skills again - after the first few bites there was very little liquid and lots of yummy lentils.
The yogurt sauce was okay, but the whole wheat pitas (there are two of them) were the real winner. They puffed up in the microwave and where soft, chewy, doughy pockets of deliciousness!
Yum.
Speaking of carby delights, the whole grain french toast and whole wheat pancakes were great!
Diet to Go Whole Wheat Pancakes

You get two pancakes, mad with a mix of whole and refined grains, some strawberry syrup (with strawberry chunks, score!) and soy sausage links.

But I still thought they tasted good, if a little tougher than they were meant to be.

I would have liked the pancakes to be all whole grain, or at least more whole grain, because I thought they lacked that heartiness of whole grain goods (same goes for the French toast).

But I suppose that's a good thing for people who are new to including whole grains in their diet, because they'll barely notice that the pancakes aren't regular white flour pancakes.

I'm sure no one will notice once the pancakes are covered in the sweet strawberry syrup! I poured half of it on my pancakes and dunked forkfuls of pancakes into the rest. There was plenty of syrup, it was a pretty perfect amount.

Especially for people new to healthy eating and healthy cooking, I really recommend Diet to Go as a way to see that healthy eating can be just as delicious (usually more!) than not. And it gives great inspiration for meals that you can make yourself when you have more time!

I'm reviewing another week of