But she's also lactose intolerant and a ten-year-old - so sleepover eats? Not as easy as they could be. And then the kids are hungry and looking at you and you don't know what to make and it's like:
But it doesn't need to be overwhelming!
Soymilk is a great sub for dairy milk and it's free of lactose, vegan-friendly, and every bit as delicious.
We've been craving chocolate Silk in my family since long before we discovered that my stomach upsets were partially dairy-based and long before my darling little C had her first sleepover.
Soymilk is also really nutritious.

There are a lot of benefits of drinking soymilk and eating soy products regularly. They're especially well known for menopausal woman - the phytoestrogens are great for dealing with the symptoms of decreasing estrogen.


But there are benefits for soy-consumers of all ages! And I even cited my sources because (a) I'm a nerd and (b) I know your kids' (and your) health is important enough to you that you want claims people can back up in fact. So: SCIENCE.
Improve your lipid profile.
Soy fat is healthy with zero cholesterol and mostly unsaturated fatty acids. Regular intake of soy can significantly lower triglycerides and low density lipoproteins (LDL) while raising healthy high density lipoprotein (HDL) levels!
Anderson JW, Bush HM. Soy protein effects on serum lipoproteins: A quality assessment and meta-analysis of randomized, controlled studies. J Am Coll Nutr 2011;30(2):79-91.
Promote a healthy weight.
Soymilk has a lower sugar content than dairy milk and is lower calorie, higher in fiber, and the monounsaturated fats in soymilk can inhibit intestinal absorption of fat, making the rest of your diet lighter, too!
Rizzo NS, Sabate J, Jaceldo-Siegl K, Fraser GE. Vegetarian dietary patterns are associated with a lower risk of metabolic syndrome: The Adventist Health Study 2. Diabetes Care 2011.
Prevent Prostate Cancer
There's some evidence that the same phytoestrogens that help ease the menopausal process for women can help prevent prostate cancer in men!
Yan L, Spitznagel EL. Soy consumption and prostate cancer risk in men: a revisit of a meta-analysis. Am J Clin Nutr 2009;89(4):1155-63.
Prevent osteoporosis.
Don't worry, guys - your kids (and/or you) won't get the benefits of soy at the expense of the bone-strengthening benefits of dairy. Soymilk not only has calcium, but Silk soymilk is even fortified with extra calcium and vitamin D.
Koh WP, Wu AH, Wang R, Ang LW, Heng D, Yuan JM, et al. Gender-specific associations between soy and risk of hip fracture in the Singapore Chinese Health Study. Am J Epidemiol 2009;170(7):901-9.
Plus, those phytoestrogens I keep talking about promote the absorption of calcium by your body, so you're taking it in and absorbing it well!
I wouldn't necessarily go with just any random brand of soymilk, especially if you're feeding it to picky-eater kids, because some brands can separate or have awkward tastes or textures. Silk is smooth and creamy and absolutely delicious, though, so it's our staple and the first one that I look for when I'm on a lactose-free mission.
Anyway, here's a recipe round-up of some great lactose-free treats to serve up at your next sleepover with allergies/intolerances - or just your next sleepover, period!
This first one is bound to be a hit with the blogosphere folks because it's lactose-free, dairy-free, and gluten-free (covering a lot of allergy and intolerance bases!)
...And - it's pumpkin-flavored! Because it's fall.
You're welcome.
Want to be the Cool Mom or maybe you just don't have any pumpkin lovers in your slumber party crowd? Serving chocolate pancakes (that are still healthy, though they definitely don't taste it) will secure Cool Mom status for at least the next, oh, twenty-four hours.
Not bad.
Okay, this next one is only a go if you have really adventurous eaters, because there's no way to hide that it's...different.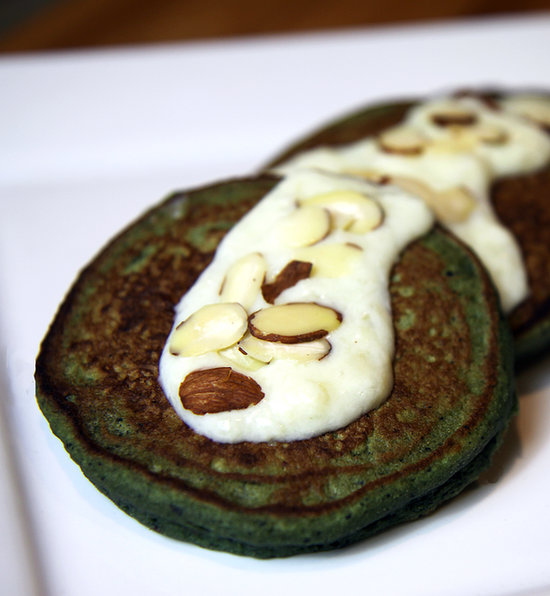 Yup. They're green.
But it's all about creative marketing! Sell them as Grinch pancakes (if it's near the holidays) or monster pancakes (if it's not) and your adventurous eaters will love every bite!
As will you, 'cause they're yummy. Fact.
In case you still want to celebrate fall at your sleepover, but pumpkin's not an option - apple awesomeness!
This one is really great if you have kiddies who can't sit still for more than five minutes. Muffins are relatively mess-free and portable!
Maybe you're hosting a little epicurean or maybe just the daughter of The PTA Mom - you know the one. She rocks at parenting, kicks butt at life, and never misses an opportunity to point it out.
Show her where she can stuff her bake drive organic speculaas cookies with these vegan danishes!
Just kidding. Let's all be friends.
Anyway, dairy-free clearly doesn't mean delicious-free. All of these recipes get a big thumbs up from me (21 years old), little C (9 years old), and mom (forty-something years old, but don't ask - that's rude). That's approximately three generations of approval!
What's your favorite way to enjoy soymilk?
How often do you enjoy soy?
What's your main reason for eating soy?
This is a sponsored conversation written by me on behalf of Silk. The opinions and text are all mine.

My little sister's neighborhood best friend is a sweet bundle of energy with a high pitched scream and a face made for Elsa (of Frozen, of course) make-up.