From main dishes to side dishes, ere are some recipes that I can't wait to try!
Though I've never been a Chipotle fan (please don't hate me) people always rave about Chipotle's famous burritos. I think this vegan burrito bowl looks much more exciting and I bet my Chipotle-loving guests woul love to try it!
I also love how aesthetically appealing it is. It's much prettier than a burrito, where all the colorful fillings are hidden in a monochrome tortilla.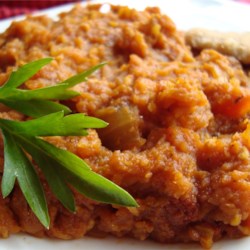 Another type of food that always seems to be a hit is the unspecified curry. Whether it's a bean curry, a coconut curry, a red curry, or a green curry, people always seem to love them!
I love lentils, so I can't wait to try out this red lentil curry and see if it lives up to the curry-makes-everyone-happy hype. Serve with rice or chapati!
PHOTO BY WILL HEAP
Salmon is always a hit with all of the fish-lovers that I know. I have a maple salmon recipe that's my go-to (and always goes over well) but this Asian-inspired sesame crusted salmon looks like a fun way to mix things up!



Avocado is delicious and oh so good for you. But halved avocado is a bit too plain to serve as a dinner party side and traditional smushed up guacamole just isn't very aesthetically appealing. This smoked-chili-and-mango guacamole is colorful for summer, not too mushed up, and great as a dinner party side or to serve with chips if you're doing the whole starters-and-conversation mingling thing.




Have fun cooking! I know I will.




Do you like hosting dinner parties?




What are your favorite dinner party recipes? Links are welcome!

In my last recipe roundup, I rounded up recipes that I couldn't wait to try out for picnics and potlucks. Picnics are a ton of fun, especially with the gorgeous summer weather, but dinner parties let you get a little fancier with the food!