Food to Live's Medjool Dates
a while back, so I was really excited to try their festively-colored little red goji berries, now that the holiday season is in full swing!
For those who missed my
review
of the dates, Food to Live creates certified organic dried fruit snacks featuring delightfully short ingredients lists of only one nutritious ingredient each. The goji berries followed that wonderful trend!
The berries are chewy, sweet, flavorful, and each one is the same exacting quality as the last - you won't find a dry berry in the bunch!
I love to eat the little red superfood berries plain, as part of a trail mix, sprinkled in a peanut butter and honey sandwich, mixed in with my yogurt, as a topping on my morning oats, or as a healthy 'sprinkle' on ice cream. Yum!
Read on for three more fun ways to enjoy the yummy goji berries!
Wrap them individually and they make a perfect on-the-go snack for when you're busy running holiday errands!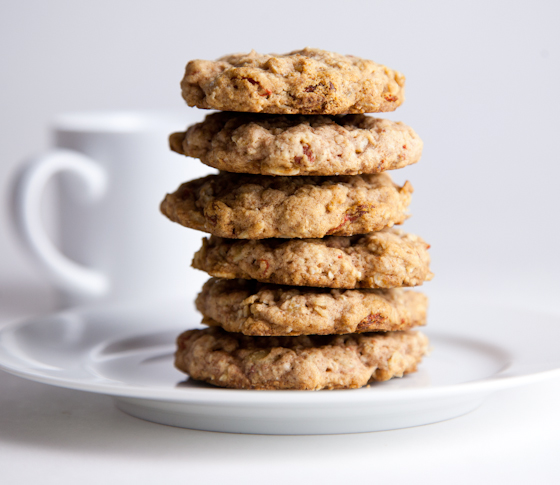 Maybe Santa likes goji berries, too?
Cookies aren't the healthiest snack out there, but they're a fun, yummy, traditional part of the holidays and so, as far as cookies go, these are a pretty nutritionally solid option! Not only do they include goji berries, but they also have fiber-rich whole grains (oatmeal) and no gluten to irritate the guts of the (seemingly ever increasing) number of people with gluten intolerance out there!
More in the mood for a fresh, healthy meal?
Davida's Ultimate Hippie Bowl
Goji berries make a great addition to Davida's Ultimate Hippie Bowl! It's packed with healthy ingredients that satisfy without weighing you down. It's a perfect lunch!

What is your favorite way to eat goji berries?

What are your favorite dried fruits?
When do you go into full-throttle Christmas mode?

I loved trying